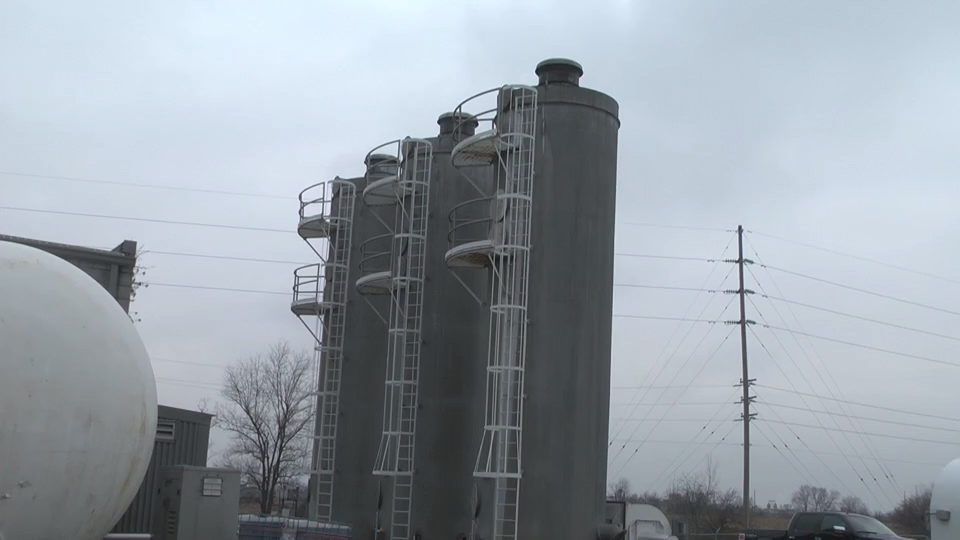 The city of Bellefontaine, Ohio recently called in Blue Earth Products to clean its water treatment equipment. The equipment was extremely dirty and performing poorly, but Blue Earth Products was able to effectively remove the accumulated scale and debris. Because of Blue Earth Products' efforts, the city of Bellefontaine now enjoys improved equipment performance and monetary savings.
The Problem
Before Blue Earth Products arrived in Bellefontaine, iron and manganese were fouling the city's air stripping towers, in place to remove the VOCs that had contaminated the aquifers. In addition, the sand and anthracite pressure filters were compacted and cemented. Because of these issues, Bellefontaine was faced with the choice of either replacing the media or getting them cleaned. They chose chemical cleaning from Blue Earth Products over media replacement. According to Bellefontaine Water Superintendent Tim Newland, replacing the media would be very expensive. "In the VOC stripping towers, it takes $25,000 to replace the media in one tower alone," Newland said. "With three towers, that's $75,000 just for the media." Newland states that Blue Earth Products was chosen for its reputation. "Blue Earth Products was highly recommended by other communities. We thought that they were the best fit for the city of Bellefontaine, and we brought them onboard. We have had an excellent working relationship with them," says Newland.
The Blue Earth Products Solution
Bellefontaine brought in Blue Earth Products to clean four pressure filters and three air stripping towers. According to Blue Earth Products Regional Sales Manager Jeff Englum, Bellefontaine's pressure filters work by pressurizing and cleaning the water as it passes through the media. When the media isn't clean, the system doesn't perform properly. To clean the anthracite and sand media thoroughly, Blue Earth Products began performing a thorough media analysis in a laboratory. Next, Blue Earth Products used this information to determine the best possible chemical cleaning solution for the media. In this case, Blue Earth Products applied Media Master® to clean the pressure vessels and rehabilitate the media in-place. In the air stripping towers, Blue Earth Products applied its patented products CSR Plus™ with Blue Earth Products Catalyst® to break up the iron and manganese scale that had accumulated inside the tower, a more cost-effective approach than replacing the tower media. As a result of Blue Earth Products' efforts, the city of Bellefontaine continues to save, on average, $25,000 per air stripping tower.
Chemical Cleaning: A Cost-Effective Solution
Choosing chemical cleaning over media replacement allowed the city of Bellefontaine to save up to 50 percent on maintenance. According to Newland, the project provided considerable benefits to Bellefontaine with regard to the budget. "We've seen fantastic results budgetary wise. It's been a big money savings to our budget to be able to come in annually and clean them compared to having to replace the filter media in each of those units," he says. "We've got clean filters and clean stripping towers, which allows us to provide a better quality water." Newland takes his position as Water Superintendent seriously, and he believes that Blue Earth Products has helped him provide better services to the community. "This project with Blue Earth Products is important because water is more than a resource – It's a responsibility. It's my responsibility to deliver water to the community, and it's one of the greatest overlooked resources around," says Newland. "By keeping these units clean, that helps me to do my part in delivering that clean, quality water."
Blue Earth Products offers a number of useful, cost-effective products and services for water treatment facilities. To learn more about bringing Blue Earth Products to your facility, or if you would like to start saving on maintenance costs like the city of Bellefontaine did, be sure to contact Blue Earth Products today.