Las Vegas, NV – Blue Earth Products, a leading specialty water chemical research and development company building an innovative chemical platform to solve water infrastructure issues, is pleased to announce today that the Company has earned ISO 9001:2008 certification. To achieve this certification, Smithers Quality Assessments Inc. (SQA), a leading independent, accredited registrar, conducted a comprehensive system audit of Blue Earth Products' operations to ensure the Company adhered to the industry's most exacting requirements for quality procedures.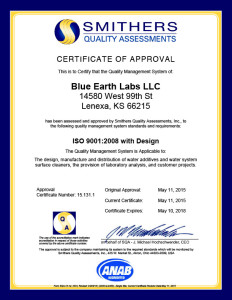 "The ISO 9001 certification process is a challenging endeavor for any organization, and one that requires complete dedication to the pursuit of quality in every aspect of our operations," said Dane Madsen, CEO of Blue Earth Products. "In achieving this feat, we certified even more, our commitment to excellence and delivering the highest customer satisfaction possible."
ISO 9001:2008 is a quality management system standard that was developed by the International Organization for Standardization, which is an association of governmental and nongovernmental organizations from many countries. The ISO 9001:2008 standard is utilized to certify quality management systems that focus on continuous improvement, customer satisfaction and the active involvement of both management and employees in a process-based approach.
Watch This Video To See How This Will Affect You
For more information, please contact info@blueearthlabs.com or 1-800-259-4456.
Blue Earth Products, a chemical research and development company, develops advanced cleaning and maintenance solutions to assist commercial facilities in providing safe, clean water. The Company's NSF 60 certified products are specifically engineered to extend the operational life and efficiency of any water infrastructure by removing organic and inorganic contaminants both online and off line. Founded in 2010, Blue Earth Products combines chemistry with commitment, innovation and expertise to deliver simple, cost-effective water infrastructure solutions to customers across the globe.